Aussie trip Autumn 2011
Chapter 1: In love with Melbourne all over again.
Australia is only separated from New Zealand by a ditch, a 1338 miles wide ditch to be exact. That is not exactly that far considering there are plenty of budget airline deals around. I visit Australia fairly frequently, mostly for medical conferences. I have seen most parts of Australia. But this continent that is all so familiar to me is foreign to some people, including my in laws. So this autumn, my wife and i have decided to bring them on an Aussie trip. We only had about 10 days to play with, not exactly adequate to tour the whole Australia. So we limited our trip to Sydney and Melbourne. We have family and friends in both cities, which translated to free accommodation. Lucky.
Our first stop was Melbourne, a city i was once very fond of. I wanted the convenience of living in the city, so that we could explore every inch of this amazing city. We stayed in a serviced apartment in Carlton for the first half of our Melbourne tour. Carlton is one of Melbourne's many inner surburbs. It is north of the CBD and is particularly well known for Lygon street, a street packed full of Italian restaurants and cafes. So much so that it has earned its nick name of "Little Italy".
We ate our first breakfast at Brunetti's cafe on Faraday street. I remember many years ago, that cafe was only a small shop. It has now expanded into a big space spanning across the space of three shop lots. The pastries and cakes you will find at the cafe are absolutely yummy. It is always packed with hungry people.
There were so many choices, we stood at the counter for a good 15 minutes trying to decide what to have. In the end we got some Macarons, a Pistachio Tartlet and a Tiramisu. They were divine.
Having fed ourselves, we took a walk to the nearby Melbourne museum and exhibition hall. The international flower show was on. But seeing that we had a lot to cover, we decided not to go in.
Exhibition building. That was me attempting to capture the movement of people walking up and down. Doing this without a tripod was not easy. This is the best shot i got.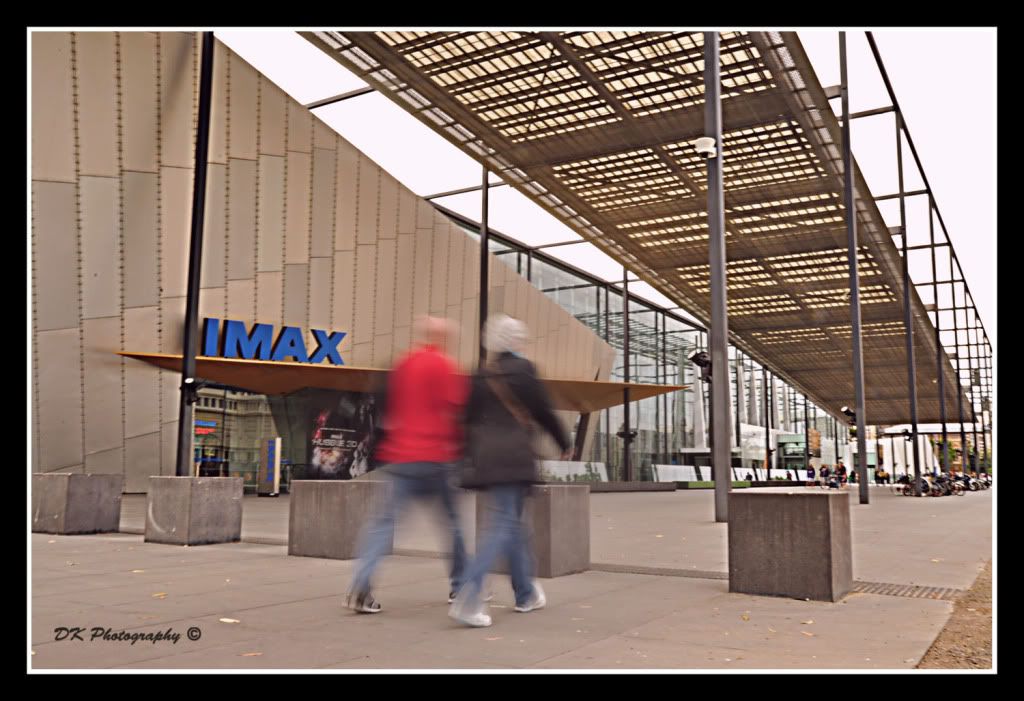 Playing with my shutter speed once again at IMAX theater beside the museum
There were a lot of bike exchange shed around the city.
We then took a city circle tram straight down Swanston street to Federation square. City circle trams run every 10 minutes around the rim of the CBD. It is free for all. Awesome. Federation square is a very unusual looking piece of architecture. The premier Jeff Kennett wanted the best design for this project and announced a design competition in 1997 in search for the most suitable architect. The winner was Lab architecture studio, directed by Donald Bates. The project was then carried out with participation by a local architect, Bates Smart. Despite the controversy, Fed square remains as one of the most popular tourist hot spots in Melbourne city. It is an interesting sight when you step back and look at how the contemporary design of the Federation square coexists with the ancient St Paul cathedral in the background.
The sky was looking a bit gloomy that morning and we had Royal botanical garden and St Kilda beach on our itinerary. So we only stayed for a short while at Fed square. We then met up with my wife's aunt, who lives in Melbourne. We took a short walk to the Shrine of Remembrance and Royal botanical garden, which were practically next to the Fed square.
The Royal botanical garden is huge. Some 38 hectares of land irrigated by the Yarra river, landscaped and planted with 10,000 different species of plants, native and non-native. The only problem was that a lot of the flowering plants were not in flowering season. Still, it was a nice walk with some photography opportunities as you will see in the following photos.
Then, we conveniently hop on to Tram 16 and headed down Swanston street again towards the other direction. It was a Sunday. Every Sunday, there is the St Kilda Esplanade market along the beach. We had a nice walk along the strip and was grateful that the weather turned out okay, though a bit windy. Despite the cold wind, we could not resist the Gelato temptation at 7 Apples and had a cup of Gelato each.
The next morning, we checked out of our Carlton apartments, hauled our luggages to Melbourne central train station for a train ride to Camberwell, where my wife's aunt lives. Before going onto the train, we fed ourselves at a French Creperies cafe called Roule Galette. It was tucked away quietly at the end of Scott alley, 241 Flinders lane. We had a total of 5-6 crepes to share, two of which were flambe. Yes i said Flambe. First time i had Flambe crepe, kind of weird. Can't say i like them that much. Despite the burning, the residual taste of the liquor was still a bit too strong for breakfast. But the cafe host, who was as French as French could be told me that was normal for a French man. In fact he insisted on pouring us two glasses of cider, which turned out to be pretty nice. Alcoholic beverages at 9am in the morning, not something i do too often.
With a stomach full of Creperies and the smell of caramalised Cognac lingering in our mouths, we took a train from Melbourne central station, heading down the Lilydale / Belgrave line. The journey took around 40 minutes. We hopped off at the Surrey Hills stop and took a short bus trip to aunt's house. It was an old villa, beautifully renovated and well kept. Camberwell has become an expensive area to buy into. A house with land like that and with a bit of the yesteryear charm will easily cost upwards of 1.5 million in today's market. We spent a couple of hours settling in and then took a bus to Chadstone shopping mall. It was a humungous by New Zealand's standard. Mainly because New Zealand is so much behind economically that we hardly see something that big. In this multi-storey mall you will find everything from middle class labels to the most expensive boutiques displaying high fashion couture. We did some window shopping and left pretty much empty handed because most things were too pricey there.
The next highlight of our Melbourne trip was heading up to the Dandenongs. The Dandenong ranges, or just the Dandenongs as the locals call it, is a set of mountain ranges with Mount Dandenong peaking at the height of 633 meters, not super high. It is around 30km east of Melbourne city. To get there without a car, we took a train down the Lilydale line again and hopped off at the Upper Ferntree gally station. That is the gate way to the hills. From there we took a bus up the mountain. The first stop we took was a small town called Sassafras, where the famous Miss Marples cafe was situated. There was a long queue at the cafe. We waited for a good 30 minutes before we got a table. The menu was less than extensive but some of the food was great. I had a beef cottage pie, which i thought was just very average but their fish and chips, waffle and last but not least scones were great. We had a walk about at Sassafras, exploring the various shops, including lollies shop and a shop full of teapots.
After a stroll at Sassafras, we took a bus to Sky high Observatory on Observatory road. There, we got a unobstructed view of Melbourne city. Well, when i said unobstructed i meant no physical mass obstructing our views. There was however, smog enveloping the sky scrapers, smog that spelled air pollution. Because the smog made the city scape so unattractive, i played around with my photo a little bit in Photoshop and came out with this film grained version (see the following photo).
Before we knew, our visit to the observatory turned into a mini photoshoot, with a few willing models (my brother in law and his girlfriend).
After the obsevatory, we headed to our last stop of our Dandenong trip, the William Pickett sanctuary. It was basically a little reserve decorated with sculptures of the aboriginal people, hidden away between native bushes. The entry is free but if you are rushing for time, i would say this sanctuary is probably something you can skip.